PMC invites project partners, local business and media partners to the new Mooncity Vienna.
The agency is responsible for the development and operation at the new location at 26 Kärntnerstrasse.
Discover e-mobility: In November 2021 the new MOONCITY VIENNA opens in Kärntnerstrasse in Vienna.
E-Mobility experience: At MOONCITY VIENNA, the focus incorporates brand and e-mobility themes, including test drives.
Salzburg/Vienna - September 2021 - Following the press preview for the new Mooncity, Porsche Media & Creative hosted an event on Tuesday, 24 September and thanked all the partners involved in the project. The sports car brand Porsche was presented at the premises at 26 Kärntnerstrasse in Vienna with the current Taycan Cross Turismo and the pioneering all-electric racing model Porsche Mission R (first shown at this year's IAA).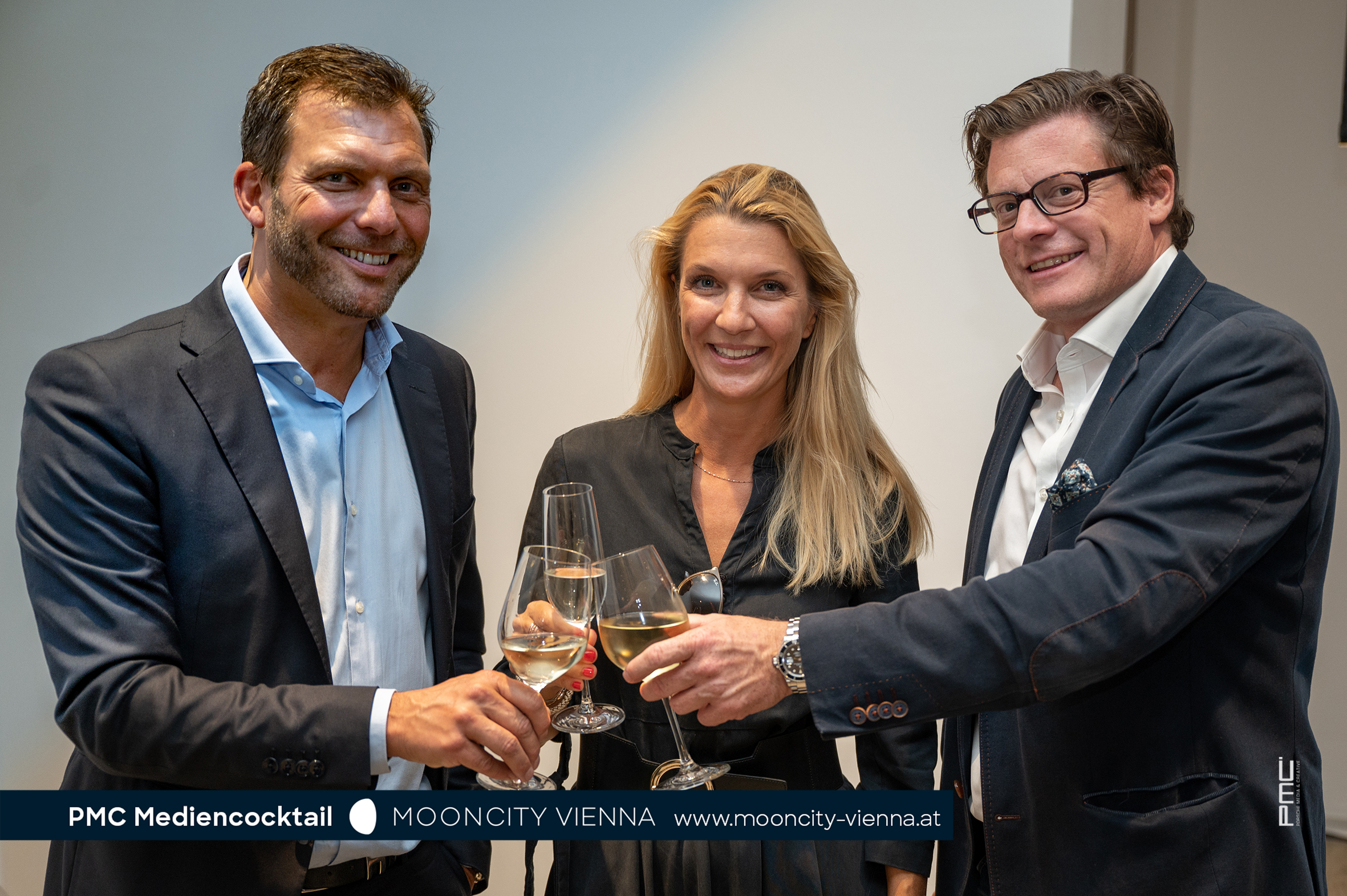 Among those spotted at the event were: Josef Almer (Goldbach Austria), Alexander Bankel (Pubbles Film), Hubert Blecha (diepresse), Oliver Böhm (ORF Enterprise), Astrid Butz (WSK Bank), Andre Eckert (autoscout 24), Gernot Fischer (heute), Thomas Frauenschuh (Epamedia), Florian Freithofer (RMA), Thomas Goiser (DMS), Andrea Groh (GEWISTA), Thomas Grojer (Mediaprint), Christopher Haberlehner (ORF Enterprise), Parisa Hamidi-Grübl (derstandard.at), Max Hafele (Oberösterreichische Nachrichten), Florian Helbich (kronehit), Michaela Heumann (dwb), Michael Himmer, Jürgen Hofer (horizont), Harald Hornachek (Mediaprint), Ricarda Huber (oe24), Thomas Hutterer (RedBull Medihouse), Matthias Hübsch (B2m Baumanagement), Andreas Janzek (Kleinezeitung), Joanna Jarosz (Servus TV), Christian Lengauer (Weekend), Peter Lammerhuber (Brightscope), Julia Loibner (Pro7Sat1PULS4ATV), Andreas Martin (PMC), Richard Mauerlechner (weekend), Ekaterina Mucha (extradienst), Christian Pesau (IV), Wolfgang Pernkopf (Goldbach), Helmut Pointnter (pointnerarchitekten), Eva Pölzl (ORF), Hermann Prax (Porsche Holding Salzburg), Anna Chiara Schreyer (Diego5), Andreas and Johannes Rath (Lobmeyer), Gerhard Riedler (Wiener Bezirkszeitung), Ronny Rockenbauer (Pubbles Film), Ralph Six (VGN), Birgit and Karl Schwaninger (Updent), Eva Schütz (exxpress), Franz Solta (Gewista), Theresa Sternbach (Gewista), Peter Strutz (Pro7Sat1PULS4ATV), Karim Taga (Ad Little), Tanja Tanczer (Colliers), Heinz Past, Gerhard Valeskini (Mediaprint), Raphaela and Ralph Vallon (Vallon PR), Marcus Zinn (Epamedia), Christian Zsovinecz (leadersnet).
Preview of the new Mooncity

Andreas Martin, Managing Director Porsche Media & Creative: "Creating the new Mooncity at 26 Kärntnerstrasse within just five weeks was a truly impressive achievement for everyone involved in the project. We are convinced that the new Mooncity concept is the right way to bring the important topic of e-mobility into people's minds. As part of our media event, we would like to thank all those involved in the project as well as our media network for their ongoing support."
Making of Mooncity Vienna

Media cocktail

About Porsche Media & Creative
Porsche Holding Salzburg has had its own in-house media agency since 1989. In 2020, the agency was realigned as a full service agency and has since been operating under the name Porsche Media & Creative (PMC ®) . The company is a 100% subsidiary of Porsche Holding Salzburg. PMC is active in Salzburg and Vienna. Founded as an in-house agency, the numerous group brands of the importer companies are looked after - well-known customers such as Volkswagen, Volkswagen Commercial Vehicles, AUDI, Seat, Skoda, Porsche Bank, Moon-Power, Mobidrome, DasWeltauto.at are among the agency's clients. Over the past decades, the agency's achievements have been honoured with numerous awards: ORF Top Spot, Media Award, Web Ad, RMS Radio Award, Out of Home Award, Native Advertising Award and many more.
The agency offers a wide range of agency services from the areas of media and marketing research, data analytics, media consulting and strategy, media planning and buying, search engine marketing (SEA), programmatic advertising, creative consulting and implementation, photo and video production, advertising media selection and production, corporate identity monitoring and event marketing. The portfolio is rounded off by the numerous print services and the in-house print shop. Since the beginning of 2020, the agency has also been serving external clients. PMC is a registered trademark.
Photo Credits:
© Porsche Media & Creative 2021 / Helmut Tremmel
Further information Porsche Media & Creative:
Andreas Martin
T +43 662 4681 3053
Andreas.martin@porsche.co.at
www.porschemediacreative.com