Porsche Media & Creative agency implements the new MOONCITY VIENNA.
In autumn 2021, the new MOONCITY VIENNA will open on Kärntnerstraße in Vienna's 1st district.
Discover, experience, understand e-mobility: the Volkswagen Group's latest electric models continue to take centre stage.
The MOONCITY VIENNA E-MOBILITY POP-UP-STORE on Mariahilferstraße takes stock of success.
Since its opening in mid-September 2020, the MOONCITY VIENNA E-MOBILITY pop-up store on Mariahilferstraße has become a central hub for the topic of e-mobility and a real crowd puller. With over 50,000 visitors and numerous Austrian premieres such as the VW ID.3 and VW ID.4, the Audi e-tron GT, Audi Q4 e-tron, ŠKODA ENYAQ iV, CUPRA BORN or Porsche Taycan Turbo S, the MOONCITY VIENNA E-MOBILITY pop-up store has become a popular destination when it comes to e-mobility.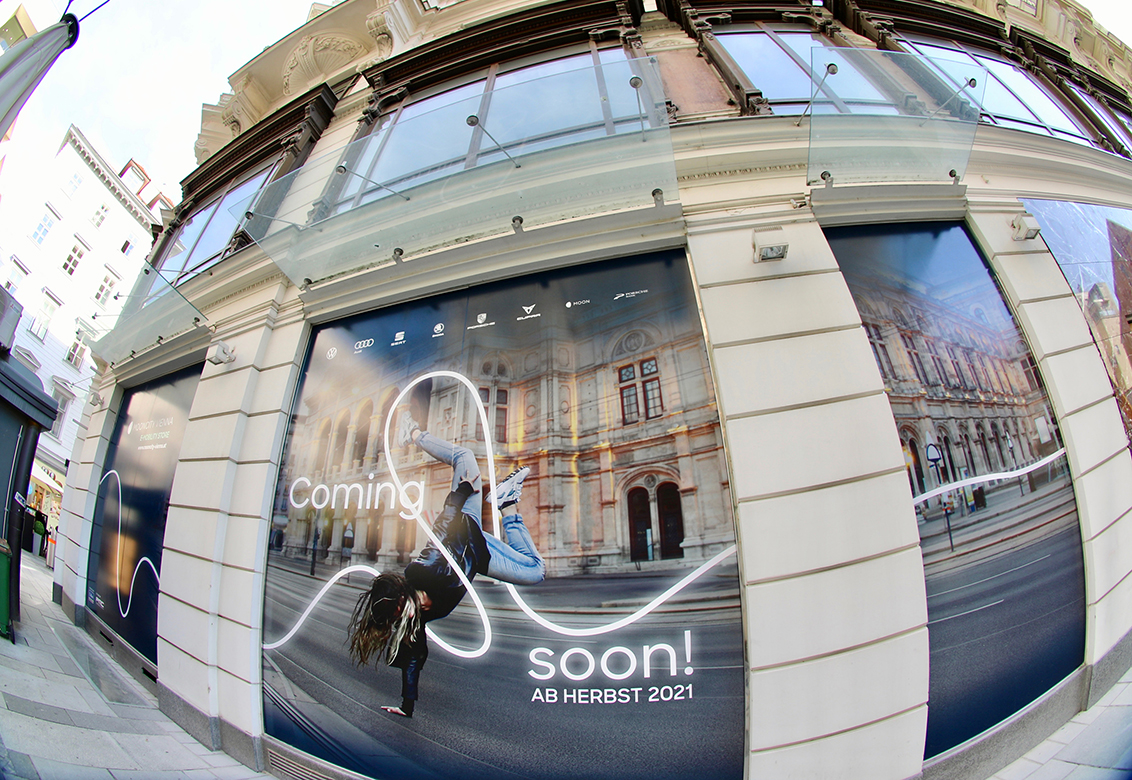 MOONCITY VIENNA: Place for information
The MOONCITY VIENNA E-MOBILITY pop-up store at 53 Mariahilferstraße was a place for information: Here one could ask all questions related to e-mobility. Ongoing consultations were held on the MOON brand's product range, covering all aspects of charging infrastructure and energy management. Porsche Bank rounded off the range of advice with financial services that simplify the entry into e-mobility. A large leisure and lifestyle area including a children's corner on the first floor supplemented the range with selected accessories from the VW Group relating to the VW, Audi, SEAT, CUPRA, ŠKODA and Porsche brands.
MOONCITY VIENNA: new location at 26 Kärntnerstraße
Wilfried Weitgasser, Managing Director of Porsche Austria and Allmobil GmbH: "The conclusion of our MOONCITY VIENNA E-MOBILITY POP-UP-STORE is extremely positive. The interest in e-mobility continues unabated – as evidenced not least by the sharp rise in registrations of fully-electric vehicles. With the new location in Kärntnerstraße, we are taking the next step with our successful MOONCITY concept and will be presenting our e-models in the 1st district from autumn onwards."
Andreas Martin, Managing Director of Porsche Media & Creative: "The marketing concept implemented by Porsche Media & Creative (PMC) for the two existing Mooncities in Salzburg and Vienna has been very well received. Therefore, it was obvious for Porsche Austria to look for a showroom in the capital city Vienna at a top location for a longer period of time. We are convinced that the concept, which has been expanded to include a number of new features, will be very well received, and not only by the Viennese".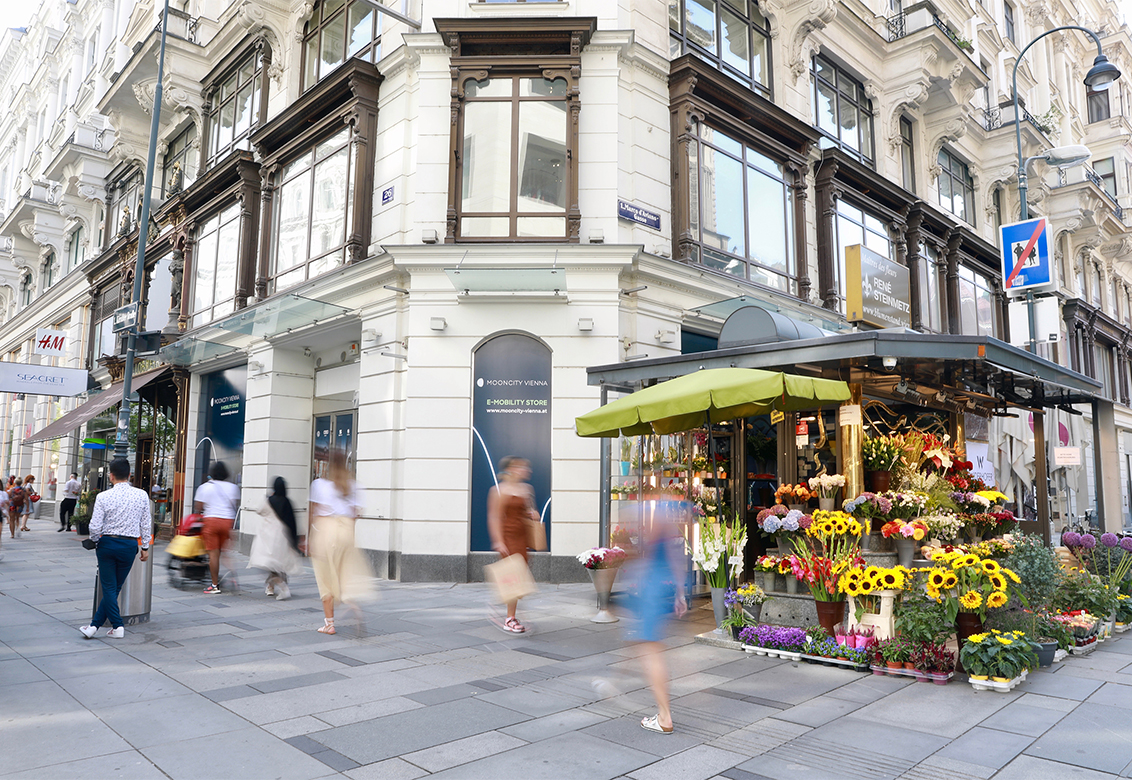 Electrifying variety of innovations in MOONCITY VIENNA
In the new MOONCITY VIENNA, visitors will continue to find everything to do with e-mobility from autumn 2021. All information on the MOONCITY VIENNA E-MOBILITY pop-up store is available at www.mooncity-vienna.at. MOONCITY in Salzburg can be reached at www.mooncity-salzburg.at.
About MOON and Allmobil GmbH
MOON (www.moon-power.com) is a brand of Allmobil GmbH based in Salzburg, which develops future and innovation topics of Porsche Holding Salzburg across all brands and brings them to the market. Battery-based e-mobility is currently the most promising and fastest availableCO2-neutral technology on a large scale. To help it achieve a breakthrough, it also needs a well-developed charging infrastructure. To this end, Porsche Holding Salzburg has founded the MOON brand. MOON is all about energy management, from the provision to the storage and use of energy. MOON is the "enabler" for e-mobility and covers the entire spectrum as a system provider with a holistic approach.
About Porsche Media & Creative
Porsche Holding Salzburg has had its own in-house media agency since 1989. In 2020, the agency was realigned as a full service agency and has since been operating under the name Porsche Media & Creative (PMC ®) . The company is a 100% subsidiary of Porsche Holding Salzburg. PMC is active in Salzburg and Vienna. Founded as an in-house agency, the numerous group brands of the importer companies are looked after - well-known customers such as Volkswagen, Volkswagen Commercial Vehicles, AUDI, Seat, Skoda, Porsche Bank, Moon-Power, Mobidrome, DasWeltauto.at are among the agency's clients. Over the past decades, the agency's achievements have been honoured with numerous awards: ORF Top Spot, Media Award, Web Ad, RMS Radio Award, Out of Home Award, Native Advertising Award and many more.
The agency offers a wide range of agency services from the areas of media and marketing research, data analytics, media consulting and strategy, media planning and buying, search engine marketing (SEA), programmatic advertising, creative consulting and implementation, photo and video production, advertising media selection and production, corporate identity monitoring and event marketing. The portfolio is rounded off by the numerous print services and the in-house print shop. Since the beginning of 2020, the agency has also been serving external clients. PMC is a registered trademark.
Photo Credits:
© Porsche Media & Creative 2021 / Andreas Martin
Further information Moon:
Gregor Waidacher, Mag.
Press and Public Relations
T +43 662 4681 2485
gregor.waidacher@porsche.co.at
www.porsche-medienservice.at
Further information Porsche Media & Creative:
Andreas Martin
T +43 662 4681 3053
Andreas.martin@porsche.co.at
www.porschemediacreative.com